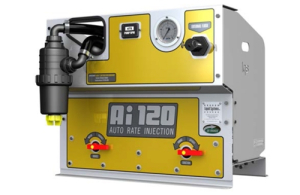 Ai 120 HIGH VOLUME LIQUID INJECTION

The Ai 120 is a single liquid auto-rate pump and control module. It offers
identical functionality to the Ai 70 but with a more powerful LQS Enhanced
Bertolini 2136 poly pump it provides capacity for applying liquids at higher
rates with increased tank agitation.

Spiker can be series coupled to this module with no requirement for extra
hydraulic flow. Connected to a Stacker distribution system, the Ai 120
provides a complete liquid injection system, delivering the best precision,
accuracy and flexibility with straight forward installation and operation.
New features include digital pump speed read out, external flush, source
and function selection and purge to ground function.